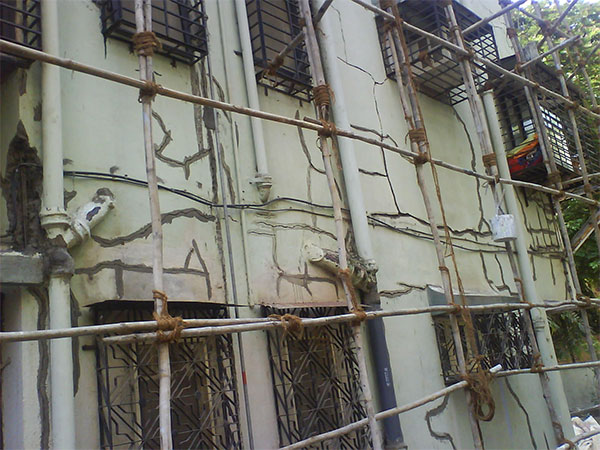 NTP undertakes Major repairs of the Buildings, such as structural repairs (RCC Repairs), Waterproofing, External Plastering, Painting . NTP has several projects executed for Corporates, Factory Buildings, Societies & Individual Clients. NTP's expertise lies in using different techniques to address different problems and deliver the best results. NTP is one stop solution for all kinds of building refurbishment which can be broadly classified under three heads
a) Repairs
b) Restoration
c)Renovation


Repairs
Repairing a building is like treating a patient. First comes the diagnosis, then follows the treatment. Therefore if the diagnosis is not proper the right treatment will not follow. Similarly if the defects are not correctly identified, repairing becomes merely an eye wash. Thus, we at NTP analyse the existing condition of the building to be repaired from all the angles using different gadgets & Technical analysis coupled with our experts conclusion to devise an appropriate treatment plan. The different techniques adopted are Guniting, Shotcreting, Micro-concreting, Polymer repairs, Jacketing, Retrofitting etc. incorporating various construction chemicals in the process.
Restoration
NTP also undertakes restoration of structures. What makes us stand apart is eye for minutest details & then undertaking restoration work using eco-friendly materials, as we feel that from an ecological point of view, it is always advisable to ensure that existing building will be preserved rather than tearing down the structure and then rebuild the same.
Renovation
While doing the renovation, we make it a point to see to it that we give the new look in addition to the structural stability & waterproofing. Whether it is in the form of coatings or enhancement of the architectural features. This very aspect gives an unique identity to the structure renovated by NTP.